'Harlem' Actor Meagan Good Is On A Journey Of Self-Discovery
How To
Meagan Good is in her second act. That looks like buying her first home, leaning on and giving community support and exploring as much of herself as possible, including directing. Her vision is clear. This isn't just a season for her, it's an era.
Ahead of Season 2 of Amazon Prime's "Harlem," which premiered on Friday, Good had been reflecting on her growth since the series first began in 2021. "The show has been, for me, kind of life-changing and like a beacon of light," she realized.
In the half-hour comedy set in the New York City neighborhood it's named after, Good plays Camille, a Columbia University professor who teaches an anthropology course about love and sex and is navigating dating, growing pains, career, gentrification and other relatable topics while trying to get it all right. Her journey is often messy and sometimes cringe-y (Season 1 involved drunken speeches at her boss' house, pre-wedding infidelity and uncomfortable ass-eating). More than anything, however, friendship anchors this show, as Camille leans on college besties Angie (Shoniqua Shandai), Tye (Jerrie Johnson) and Quinn (Grace Byers) as they help each other put the pieces back together.
Since she was a child in the early '90s, Good has been gracing our screens with a specific soft dynamism that feels very unique to the roles she's chosen, whether it be an "Eve's Bayou," "Cousin Skeeter" or "Think Like A Man." With "Harlem," however, the 41-year-old feels a different kind of connection to her character than she has with previous projects.
"I understand this character so much. I love this character. A lot of things going on in her world parallel my world," she told HuffPost. "She's probably the truest character that I've played that is closer to my personality."
Entering the show, Good had a few life changes of her own, including her divorce from Devon Franklin. However, Good said the support she's gotten in the aftermath from her castmates has been transformative and reflective of the sisterhood we see in the show. It also reflects the mission Good is trying to fulfill at this stage in her career.
"Hopefully, I can help someone else because I think that that, to me, is the biggest gift, not what I do for a living, not any money that I could make, not any accolade that I could get, but how am I effective in the world," she said. "And how do I give back what's been given to me? And how do I bless others and help them along their path and their journey, just simply by being myself without any things that I try to hide or not be, but just by being authentic?"
For "I Run This," Good talks about how her journey parallels her "Harlem" character, her journey of self-discovery and the escape Whoopi Goldberg offered her when she needed it the most.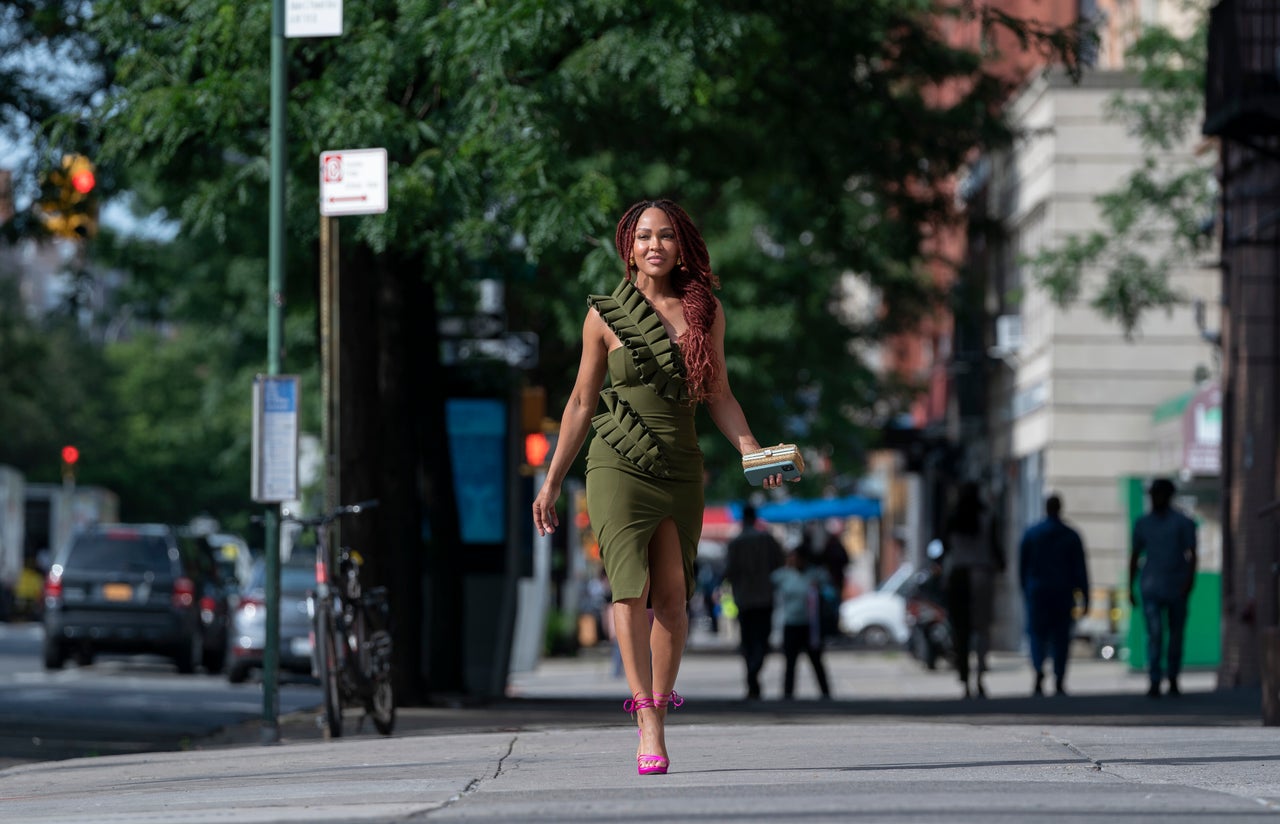 HuffPost: How's 2023 been for you so far?
Meagan Good: It's been amazing. A lot of changes in 2022, and a lot of adjustments, a lot of growth. And in 2023, I just have a lot of peace. I bought my first home. Work has been great. God has been great. I just have a lot of peace and joy and excitement about the future and what's next.
That's amazing. You sound like you're in a really good place. Also, congratulations on the second season of "Harlem." What does it mean for you to be going into the second season of a show like this, featuring four amazing Black women at the forefront, showing their sisterhood and life and the ups and the downs?
I think any time I take on a TV show, I'm always a little bit afraid of the commitment. I knew that I wanted to be in a place where I loved the people I was working with, that my quality of life was paramount and important, and that I could do life because you're not just showing up to work when you're there five days a week, 13, 14 hours a day.
You're doing life with these people. This is your quality of life. And so it was very important to me that that was amazing, and it has been. It's been such a home for me. We have such a little family. We genuinely love and cover and pray for each other and vacation together and all the things.
And to see it be this well received, I think we knew that we would find our audience, but I don't think we knew that it would be kind of like this juggernaut that people really just got into and supported. And I've never felt this much support from a studio or network, either. Everything about it has just been pretty amazing.
That's so beautiful. Diving a little bit deeper into what you were saying about how you relate to Camille, with this season especially, I feel like Camille exemplifies how we sometimes tend to view ourselves as projects that need to be fixed and tweaked and all that rather than multidimensional women with real and complicated experiences.
How specifically do you relate to Camille? And how are you different from her?
I think I'm a lot more rebellious and sure of myself in the sense of just I feel that I am someone who constantly looks inside to see what's really going on and works at being self-aware, and is good with taking criticism and deciding what you keep and what you throw away.
And I feel like Camille treads a little softly. She kind of second-guesses herself sometimes, but she's ultimately going to do what she's going to do, which I can relate to as well. But I think she is a lot more reflective in a way where she's not always so sure of herself.
And what I love about her is that there's a duality to her, which is something else that I can relate to, which is she can be smart and confident and know what she wants, and be determined. Still, in the same breath, she can second guess herself, and she can feel a little bit insecure, and she can wonder if she's doing the right thing.
She can also be sexy and attractive. In the same breath, she can be a dork and kind of a nerd and socially awkward. And she just kind of, to me, is a character that I've been blessed to be able to play that feels so much closer to who I am as a person than any other character that I've played. I love playing her.
We've grown up watching you for so long, watching "Cousin Skeeter," and then even "Roll Bounce," "Waist Deep," the list goes on and on. As you reflect on your career and the longevity that's kept you here, what's this journey taught you about what the next chapter in your life looks like? What do you want to bring with you, and what do you want to leave behind?
Well, it's taught me that what I do as an actress is not my identity. It's a part of who I am, but the fullness of who I am is who I am every day as a human being walking and talking and living in this world, and walking it out and figuring it out just like everybody else. But I think it's kept me humble because I get to be here, and I appreciate that. And rather I feel that I deserve it or not, I understand that God has allowed it, and it makes me very, very thankful and very, very grateful.
And I know that it's not just about what I do creatively, even though that's a huge part of it, which is important, because people do see certain things, and they become inspired, or influenced, or love the skin that they're in a little bit more. I feel like God has given me a platform to be in the world and hopefully uplift other people, hopefully, give them hope, hopefully just by being transparent and being a real human being and talking about the things that we've been through, that we all can relate to, no matter what we do for a living.
Hopefully, I can help someone else because I think that that, to me, is the biggest gift, not what I do for a living, not any money that I could make, not any accolade that I could get, but how am I effective in the world? And how do I give back what's been given to me? And how do I bless others and help them along their path and journey, just simply by being myself without any things that I try to hide or not be, but just by being authentic?
And so that's what I want my legacy to be, is someone who encourages others to be completely authentic because that is our superpower, someone who encourages others to help others because that is our collective purpose, and someone who is loving, that is graceful and kind and puts things into the world that are positive and uplifting and just all those things.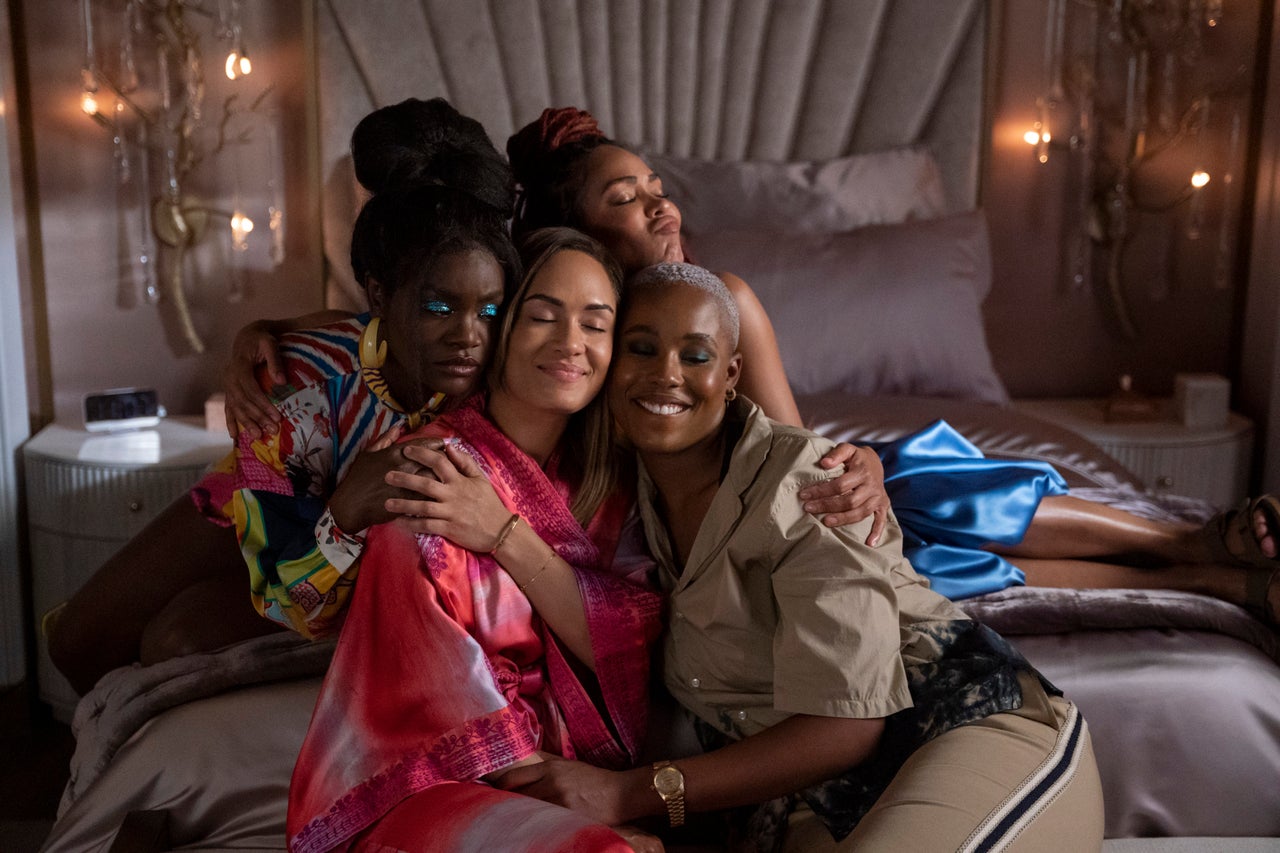 I love that. How has sisterhood and community specifically, especially among other Black actors, sustained you in this career and kept you grounded?
Tasha Smith has definitely been a big sister to me. Regina has just been an incredible being and force. I could go on about just certain people who have truly shown up for me and have become a part of my tribe and have covered me and prayed for me and are a safe place for me.
And the biggest thing for me is there were times, and sometimes there still are times, when that's not always the case. And I just want to make sure that I provide that kindness, that safe place, that protection, that rallying, that cheerleading, that banding behind the little girl who comes behind me.
When I look at the Ryan Destinys and the Paige Hurds, I just want to see them win. And I don't want them to get stuck in any boxes. I don't want people to tell them what they think they're capable of. I want people to understand these girls are capable of all things, and they will have every single opportunity, as much as I can help with that.
But I think they'll have it anyway, and I want them to feel self-assured, valuable, and also invaluable. Nobody can be them, which is why they have to be authentically themselves, because that's what the world needs, that version of them, their truest version of them. And so, however, I can help that and pour into that, that really just makes me happy.
I love that message so much. And which Regina are you talking about? Hall or King?
Both of them, but Regina Hall has been someone who, when I was going in for "Harlem," I called her. I was like, "Hey, I'd like you to coach with me on this. I truly think that you're the best. You get how to do comedy and drama, and you understand all the things, and this, for me, would be kind of the first time where I'll be doing some physical comedy, which I'm really excited about."
And she was like, "Girl, stop. You already got this. I've seen you do physical comedy before. You're already great. But, yes. I would love to run lines with you. I would love to add anything I could add. I 100 percent have you, and I want to see you get this, and you will get this."
And that's beautiful because it's not always that way, where someone else wants to help you get a great job, or someone wants to just love on you and reaffirm you, or even they have as much joy in their heart.
Somewhat related, in your interview on "The View," you mentioned Whoopi Goldberg helping you rediscover yourself. What was the most sage advice she's given you in this rediscovery moment? And what would you call this era for you?
I call this era my second act. It's not a season. It's an act in my life. A lot of the advice she gave me was sharing things with me that she hasn't shared with anyone else and walking me through things she's experienced that have been similar.
It was simply her saying, "I'm here. What do you need? Let's talk through this." And then her saying, "Look, I bought a compound on a peninsula in Italy. Come and bring your sisters, and just be there for the month of August, and just eat, pray, and love. Let's talk. Let's hang."
And that's what we did. We went there, and we had breakfast, lunch, and dinner every day. We just sat out looking at the water on the peninsula and talking about life, allowing her to pour into me and having very real and sometimes hard conversations. And it was really, really special. It's the best trip I've ever taken and one of the best times I've had in my life thus far.
She is just such an incredible human being. She is. And she is someone who roots for the little girl behind her and doesn't just root for them, but she shows up to do what she can to make it happen for them. And that's who I have strived to be, and it's just even more motivation to make sure that that translates and results in actual tangible things.
This interview has been edited for brevity and clarity.
---