Massachusetts mom killed 3 children in 'well-planned' attack, prosecutors claim
How To
A Massachusetts woman used exercise bands to strangle her three children in the family home in a well-planned assault while her husband was out for about 20 minutes picking up medicine at a pharmacy and takeout, a prosecutor said at her arraignment Tuesday.
Not guilty pleas were entered on behalf of Lindsay Clancy, 32, to charges including two counts of murder, three counts of strangulation and three counts of assault and battery with a dangerous weapon.
Clancy, with a surgical mask over her face, was arraigned in Plymouth District Court remotely from the hospital, where she is recovering from spinal injuries suffered when she jumped out the window of the home. She will likely never walk again, her defense attorney said.
LINDSAY CLANCY'S HUSBAND 'BEGGED KIDS TO BREATHE' AFTER MA MOM ALLEGEDLY 'HEARD VOICES' TO KILL THEM
Judge John Canavan III did not set monetary bail or send her to jail, but ordered she remain in the hospital until she is well enough to be moved to a rehabilitation facility.
She did not speak except to say "Yes, your honor" when the judge asked if she could hear the proceedings.
The prosecution and the defense painted widely divergent pictures of Clancy, a labor and delivery nurse at Massachusetts General Hospital in Boston, in the weeks and days before she allegedly assaulted her children in the family home in Duxbury.
The children were found by their father with the exercise bands still around their necks. Cora, 5, and Dawson, 3, were pronounced dead at the hospital. Callan, 7 months, was also taken to the hospital where doctors restored his pulse but could not restore brain activity. He died several days later, prosecutors said.
The deaths have shocked the coastal town about 30 miles south of Boston.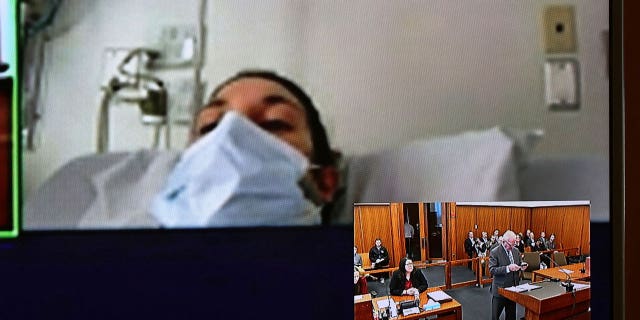 The prosecution said Clancy behaved and appeared normal to everyone she interacted with, including her mother and husband.
On the day of the killings, she asked her husband if he wanted takeout and went online to measure how much time it would take him to get to the restaurant and pick up some medicine for the children at the pharmacy, prosecutor Jennifer Sprague said.
"She planned these murders, gave herself the time and privacy needed to commit the murders, and then she strangled each child in the place where they should have felt the safest — at home with their Mom," Sprague said. "She did so with deliberate premeditation, extreme atrocity and cruelty."
Defense attorney Kevin Reddington, who has indicated that he plans an insanity defense, painted a picture of a woman struggling with mental illness, who had been prescribed about a dozen medications to try and control it.
MASSACHUSETTS MOM LINDSAY CLANCY'S 911 DISPATCH REVEALS FRANTIC FIRST RESPONDERS
"This is not a situation, your honor, that was planned by any means," he said. "This was a situation that was clearly the product of mental illness." Clancy may have been suffering from post-partum depression or post-partum psychosis, he said.
Reddington has hired a psychologist to evaluate her.
The prosecution countered that Clancy had been evaluated by mental health professionals before and was told she did not have post-partum depression and no symptoms of post-partum depression.
Clancy's husband, Patrick, forgave his wife in a post on a fundraising site to assist with medical bills, funeral services and legal help.
CLICK HERE TO GET THE FOX NEWS APP
"She's recently been portrayed largely by people who have never met her and never knew who the real Lindsay was," he wrote. "Our marriage was wonderful and diametrically grew stronger as her condition rapidly worsened. I took as much pride in being her husband as I did in being a father and felt persistently lucky to have her in my life."
---